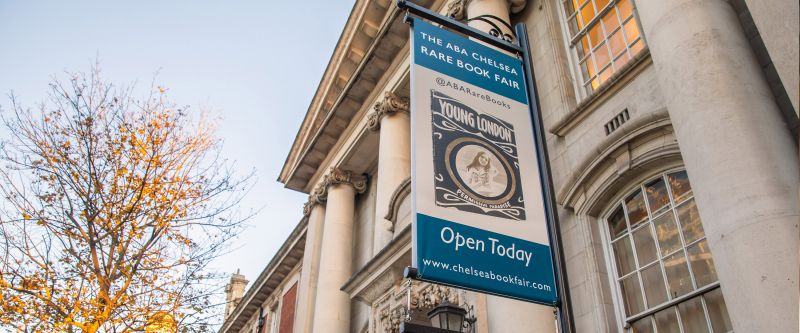 Venue
Chelsea Old Town Hall is on the King's Road, London SW3 5EE
Opening Times And Tickets
Tickets required (£10 at the door) Friday 3 November: 14:00-19:00
Free entry Saturday 4 November: 11:00-17:00
Conditions Of Entry

As the Fair sells particular items we have to prohibit entry of similar books, maps, prints or manuscripts of any description. If you do bring items like those on display, please store them in the secure cloakroom provided.

In the interest of security all bags will be searched upon entry and exit of the venue. Large to medium sized bags must be checked into the cloakroom.

Please note that photography and/or filming for press and marketing may be in progress during your visit.
London Underground
Take the Circle or District Line to Sloane Square. Walk across Sloane Square and straight down the King's Road (passing Peter Jones Department Store on your right hand side). Chelsea Old Town Hall is approximately a ten-minute walk down the King's Road, on the left hand side immediately opposite the lower end of Sydney Street. You may also take a bus via the routes are listed below.
Local Bus Routes
Bus numbers 49 or 211 (Alight in the King's Road at Chelsea Old Town Hall and the lower end of Sydney Street). Alternatively catch bus numbers 11, 19, 22, 211 or 319 from Sloane Square/King's Road.
Car Parking
Chelsea Old Town Hall has 3 parking bays, 2 are provided for Main Hall hirers and 1 for Small Hall hirers. There is a small public car park (35 spaces) at the lower end of Sydney Street that operates Mon–Sat from 7am–7pm. On-street parking is permitted at metered bays in nearby side streets.
Refreshments
We have a café serving hot and cold drinks and snacks in the venue during the Fair. Alternatively, the King's Road boasts cafés, bars and restaurants of every description, all within easy walking distance of the venue.